Labyrinths are a simple tool used to engage our bodies, minds and spirits in prayer and reflection.
The labyrinth is believed to have evolved out of the most basic spiral and circle forms, found in nature. While its origins are still mysterious can be traced back over 4000 years. Over time, the labyrinth pattern, its symbolism, and its mythology have been integrated into the lives of people of different cultures for a variety of purposes, both spiritual and secular.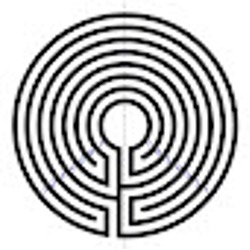 While Christians used labyrinths found on pre-Christian sites and modeled their own after those earliest labyrinth forms, the development of the high medieval Christian labyrinth was a breakthrough in design. The best known is the 13th century 11-Circuit labyrinth in Chartres Cathedral, France. The medieval Christians walked the labyrinth as a way of symbolically participating in the great pilgrimage to Jerusalem.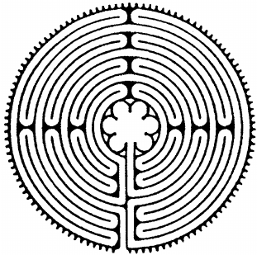 Walking the labyrinth has re-emerged today as a powerful tool for personal and spiritual healing and growth, professional development, and community building. The labyrinth, both in permanent and portable forms, is now found in many contexts and environments including churches, schools, hospitals, birthing centres, hospices and other healthcare facilities, senior's centres, retreat centres, prisons, community centres, parks and public and private gardens, as well as in the workplace.
We are very glad to provide access to a labyrinth at our church and pray that it will be a blessing to many.
(History of the labyrinth taken from the notes of Beverly Chen, Certified Labyrinth Facilitator, Ottawa, 2003)