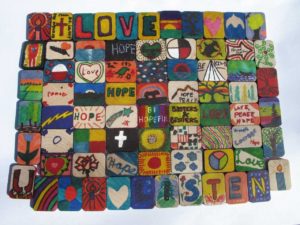 Workshop and Dinner
Saturday, May 14th 3-6:30pm
All My Relations-Ascension Circle invites you to continue our listening and learning about the history of Shingwauk Indian Residential School and to receive an update about the unmarked burials sites on the grounds of the former school. We will be joined by Irene Barbeau, President the Children of Shingwauk Alumni Association. 
We will have an opportunity to make a gesture of reconciliation through art on small wooden tiles, originally part of the Project of Heart, which will be added to our prayer screen. [tiles made at a previous workshop pictured above]
For those who can join, we plan to share a meal together at the end of the workshop. For more information and/or to register contact the All My Relations-Ascension Circle co-chairs by email at allmyrelations@churchoftheascension.ca.